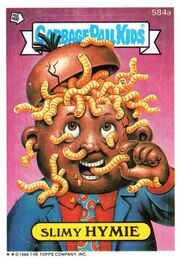 Slimy HYMIE 
or
Crawlin' ROLLIN
is a card from the
Old Series 15
. It is card number 584a/584b.
Description
Edit
The card shows a boy with worms emerging everywhere from his head.
Parodies/Represents
Edit
May allude to the children's chant, "the worms crawl in, the worms crawl out". The character eating one of the worms may refer to another children's chant/song, "nobody likes me, everybody hates me, I guess i'll go eat worms".